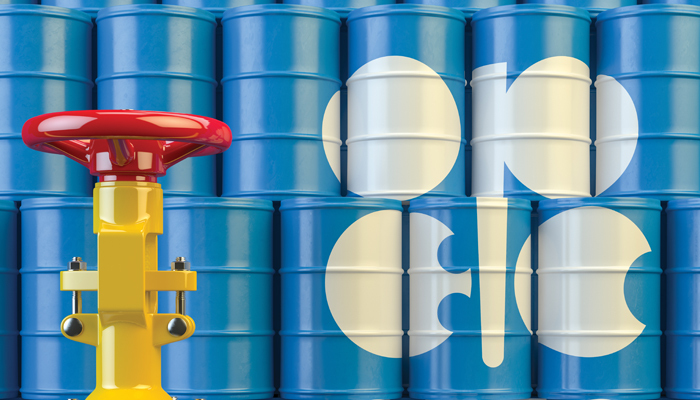 OPEC producers are set to meet on June 25 and 26 in Vienna, Austria
In February 2016, Saudi Arabian Oil Minister Ali Al-Naimi announced a plan for a potential crude production cut. In December 2016, for the first time in nearly eight years, the Organization of the Petroleum Exporting Countries (OPEC) reached an agreement to slash crude supplies to 32.5 million barrels a day (mb/d). Russia pledged to reduce production by 0.3 mb/d, helping to restore the global oil demand and supply balance.
Two years later, in December 2018, OPEC and non-OPEC producers (OPEC+) got together again and agreed on a 1.2 mb/d cut in crude output over the first six months of 2019, with OPEC contributing a 0.8 mb/d cut and non-OPEC allies reducing production by 0.4 mb/d. This followed a sharp decline in global oil prices over the last few months of 2018.
Saudi Arabia
Under the 2019 OPEC+ output cut agreement, Saudi Arabia was committed to bringing its crude production back to the October 2018 level of 10.31 mb/d, down from 10.64 mb/d. With an initial public offering for state-owned giant Aramco underway, Saudi Arabia was encouraged to re-balance the oil market and support prices by removing some supply from the global market. According to a Reuters survey, Saudi Arabian crude production stood at 9.85 mb/d as of April 30, putting the kingdom's compliance with the OPEC+ output agreement at 243% (10.64 mb/d – 9.85 mb/d = .79 mb/d; 243% higher than the 33 mb/d cut), the highest compliance rate among all OPEC producers.
Iran
The U.S. pulled out of the 2015 Iran nuclear deal in May 2018 and issued sanctions against the Iranian oil sector in November. However, President Trump surprised market participants by granting sanction waivers to eight jurisdictions, all major buyers of Iranian oil, including China and India. By allowing them to continue purchasing crude from Iran for another six months, Trump avoided a potential spike in oil prices right before the U.S. mid-term elections. The waivers expired at the end of April 2019, and, as expected, the Trump administration did not renew or extend any portion of them. Iranian output saw a steep decline to about 2.60 mb/d in April, from roughly 3.80 mb/d one year ago.
Venezuela
Once a top OPEC producer, Venezuela's oil sector was suffering from the country's economic crisis in recent years. Adding to its troubles, as part of U.S. efforts to oust Venezuelan President Nicolás Maduro, the Trump administration slapped sanctions on the country's energy sector in February 2019, requiring non-U.S. entities to end any energy transactions with Venezuela involving the U.S. financial system or U.S. brokers, by April 28. Venezuelan production dropped to below 1 mb/d, the nation's lowest level in nearly 30 years.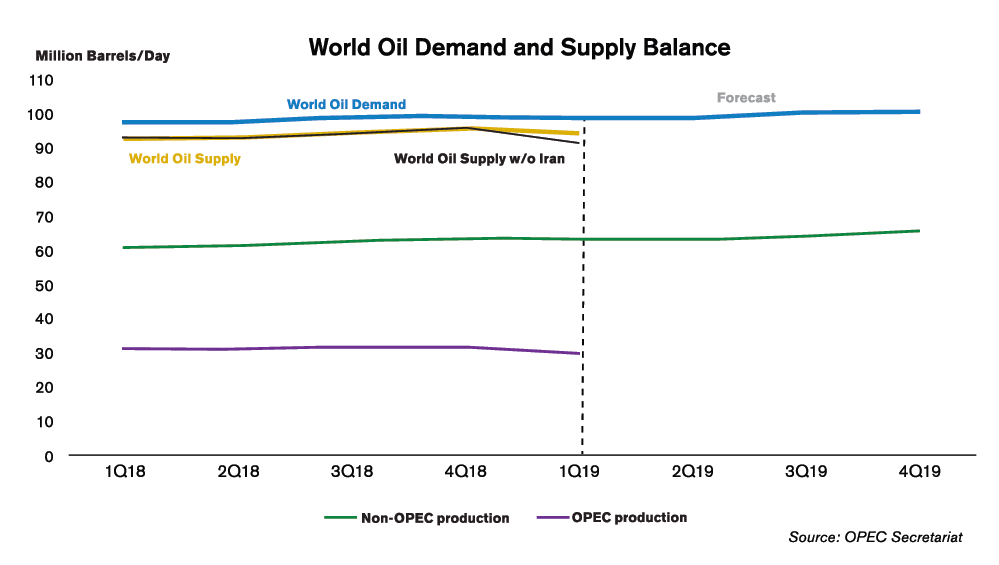 Libya
Unlike OPEC partners Iran and Venezuela, Libya was not under sanctions. However, Libyan crude production was suffering due to constant internal fighting among the nation's military forces and threats of a renewed civil war. Libyan National Oil Company declared force majeure on exports from the biggest oilfield in Libya, El Sharara, with a capacity of 315 kb/d, in December 2018. The facility stayed closed until March 2019, as eastern Libyan forces tried to take over oil and gas facilities in southern Libya. Executives from the state oil company Sanallah warned that the fighting between forces aligned with the internationally-recognized Libyan government in Tripoli and eastern Libyan National Army forces "could wipe out" the country's oil production.
Russia
Russia expressed its reluctance to cut production this time, saying that it would reduce its output gradually over the six-month period. According to the Russian Energy Ministry, Russian oil supply fell to 11.23 mb/d in April. As its reference level is at 11.18 mb/d, Russian compliance was about 79%.
The U.S.
The U.S. surpassed both Russia and Saudi Arabia recently to become the world's largest crude oil producer, with output hitting a new record high of 12.2 mb/d in the final week of March 2019. In the May Short-Term Energy Outlook, the U.S. Energy Information Administration raised its forecast for 2020 U.S. crude output significantly, to 13.4 mb/d.
What to look for in June…
The current output cut deal is expiring by the end of June 2019. OPEC producers are set to meet on June 25 and 26 in Vienna, Austria to discuss the possibility of extending the current supply deal based on market conditions. The earlier April meeting was canceled. Waiting until June, the producers surmised, would allow time for the oil market to realize the full impact of U.S. sanctions against the Iranian and Venezuelan energy sectors. With the risk of roughly 2.60 mb/d of Iranian oil disappearing from the global market, and fragile situations in Libya and Venezuela, the gap between supply and demand could widen out, which would make an extension of the OPEC+ output cut agreement beyond June nonsensical. We will be looking out for how these factors play out at the next OPEC meeting.